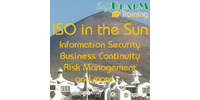 ISO in the Sun
Beschreibung
ISO in the Sun is an ongoing series of courses on Risk, Information Security, Business Continuity, Service, Project and Integrated Management hosted by SoftQualM in the beautiful surroundings of Lanzarote in the Canary Islands, Spain. This the ideal opportunity to combine your continuing professional education with a holiday in the sun, and even save compared to attending similar courses in the ty…
ISO in the Sun is an ongoing series of courses on Risk, Information Security, Business Continuity, Service, Project and Integrated Management hosted by SoftQualM in the beautiful surroundings of Lanzarote in the Canary Islands, Spain. This the ideal opportunity to combine your continuing professional education with a holiday in the sun, and even save compared to attending similar courses in the typical metropolitan settings. Students come from all kinds of industries and sizes of organisation, from freelance consultants and auditors to EU institutions.
Erfahrungen mit ISO in the Sun gemacht?
Haben Sie einen Kurs oder ein Seminar bei ISO in the Sun besucht? Helfen Sie anderen Besuchern, indem Sie eine Bewertung schreiben!
Als Dank wird Springest € 1,00 an die Stiftung Edukans spenden.
Bewertung schreiben
Bewertung schreiben
Bewerten Sie und helfen Sie anderen Besuchern ein passendes Weiterbildungsprodukt zu finden. Als Dank spenden wir € 1,00 an die Stiftung Edukans.
Weiterbildungsprodukte (47)
Springest hilft Ihnen bei Ihrer Entwicklung
Springest ist die Seite, wo Sie alles finden, um sich weiterzuentwickeln. Privat und im Unternehmen. Schauen Sie sich Bewertungen an und kontaktieren Sie unsere Bildungsberater ganz unverbindlich.
Alles zum Lernen

Hilfe beim Suchen und Buchen

Kostenlose Broschüren

Bewertungen und Teilnehmer

Auch für Ihre Organisation

Sofort buchen